Hogwarts Legacy Harlow's Last Stand is the sixth relationship quest as part of Natty Onai's questline, in which you'll have to defeat Theophilus Harlow and his lot. Theophilus Harlow puts up a good fight, but we've prepared a nice trick to take him out in a one-shot.
How To Unlock Harlow's Last Stand in Hogwarts Legacy
To unlock Harlow's Last Stand Relationship Quest, it is required to complete Natty's previous quests until you've finished Finding Focus. Furthermore, you'll have to progress the main storyline until you've completed The Final Repository Main Quest.
Once you've met the abovementioned requirements, Natty will send you an Owl asking you to meet her near Manor Cape. We've marked her location in the image below.
Speak with Natty near Manor Cape to begin Harlow's Last Stand Quest in Hogwarts Legacy.
How to Defeat Theophilus Harlow in Harlow's Last Stand
After you finish the conversation with Natty, follow her to the Manor Cape. Go through the gates of the Manor Cape, and after a couple of seconds, Ashwinders will appear.
Once you've defeated all the waves of Ashwinders, Theophilus Harlow will show up, and you'll have to fight against him. He often teleports, so you must watch your back every time he disappears.
The best way to defeat Theophilus Harlow is to cast the Unforgivable Curse, Avada Kedavra, learned during In The Shadow Of The Relic as part of Sebastian Sallow's questline. Casting Avada Kedavra, the killing curse, will one-shot Harlow.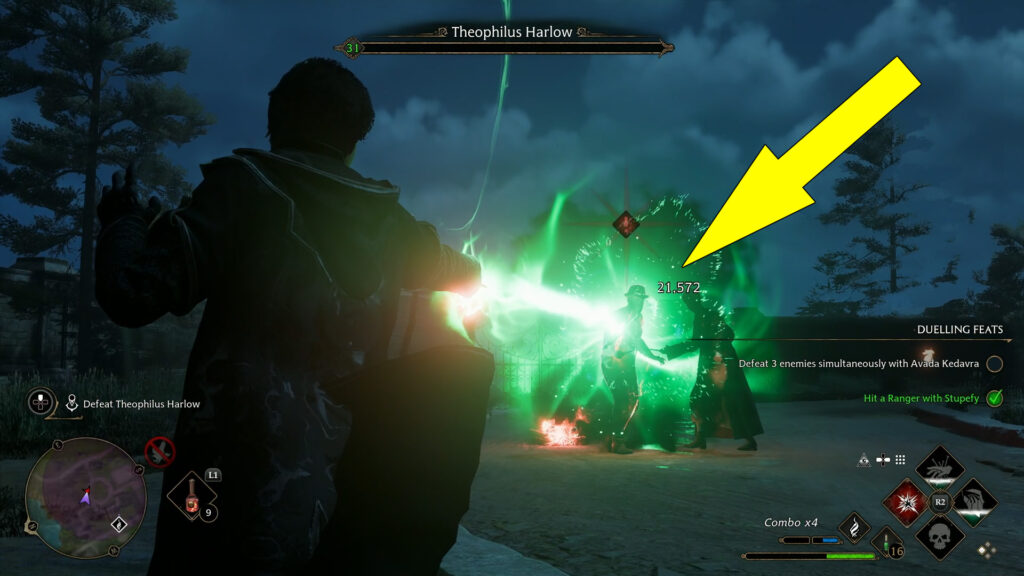 After you deplete his health bar, he will try to use Avada Kedavra on you, and you'll have to quickly tap (X)/(A) to counter him. Then, a cutscene will begin where Natty will take a bullet for you, and Officer Singer arrests Harlow. At the end of the cutscene, you will find yourself in the Hospital Wing of Hogwarts Castle, where you can visit Natty after she shielded you from Crucio and start her final relationship quest, Acting On Instinct.
And that's how you complete Harlow's Last Stand in Hogwarts Legacy. If you have a better strategy to defeat Harlow, we would love to hear it in the comments below.