The Hogsmeade Valley Demiguise Statue is a Hogwarts Legacy collectible required for the Man Behind The Moons side quest, which allows you to upgrade the Alohomora spell. Alohomora is very useful because you can use it to open the locks blocking your access to certain places.
Note that you can obtain the 33 little ape-looking statues available in Hogwarts Legacy only during nighttime, and when you have all of them, you unlock the Demiguise Dread Trophy/Achievement. You'll also visit the Hogsmeade Valley region for the Breaking Camp and Brother's Keeper side quests, where you'll help people in the Upper Hogsfield hamlet with different tasks.
The Demiguise Statue is not hard to get, unlike the Ancient Magic Hotspot in the same region, which also counts as a collectible.
Where To Find the Hogsmeade Valley Demiguise Statue in Hogwarts Legacy
The Hogsmeade Valley Demiguise Statue is located in the Upper Hogsfield hamlet in the northern part of the region, as shown on the map below.
There is a Floo Flame in the hamlet to which you can fast travel; if not, track the location on your map and make your way to it. Before going for the collectible, remember it must be nighttime.
Therefore, if it's not already nighttime, open your map, press R3/RS on your PlayStation/Xbox controller, then X/A, and like magic, the sun is gone. Now, go on the northern road from the Upper Hogsfield Floo Flame and enter the second house on the left side, which has a cartwheel next to its door.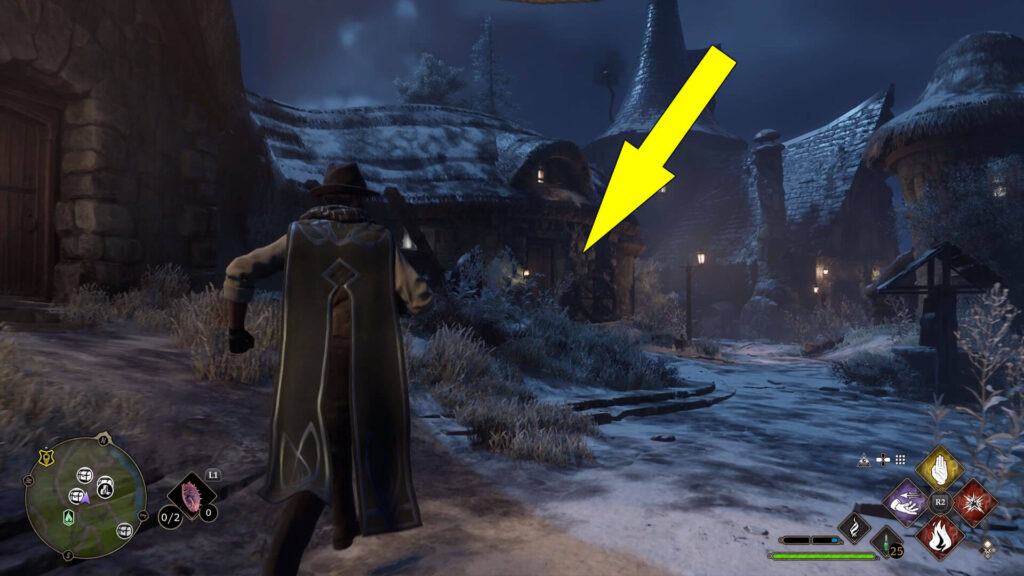 You can immediately see the collectible on a chair as you enter the house.