Hogwarts Legacy Hogsmeade Valley Astronomy Table is a collectible for which you'll have to solve a little puzzle, provided you want to achieve 100% completion in this region.
There are 15 Astronomy Tables scattered throughout the world of Hogwarts Legacy, and they will all become available after you learn to use the telescope in the Astronomy Class main quest.
It's worth mentioning that to interact with an Astronomy Table; it must be nighttime; the same case stands with the Hogsmeade Valley Demiguise Statue.
Also, every time you finish with 5 Astronomy Tables, you get a Starry-Eyed Seer gear appearance (skin). You can track your progress from the Exploration tab of the Challenges menu.
Now that you're probably convinced to go for the Hogwarts Legacy Hogsmeade Valley Astronomy Table, you should follow the guide below to make sure you don't waste time searching for the collectible yourself.
Where To Find The Hogsmeade Valley Astronomy Table In Hogwarts Legacy
The said Astronomy Table can be found a short distance west of the Upper Hogsfield hamlet, which has a Floo Flame you can use to fast travel if you have it unlocked.
You have the exact location marked on the following map.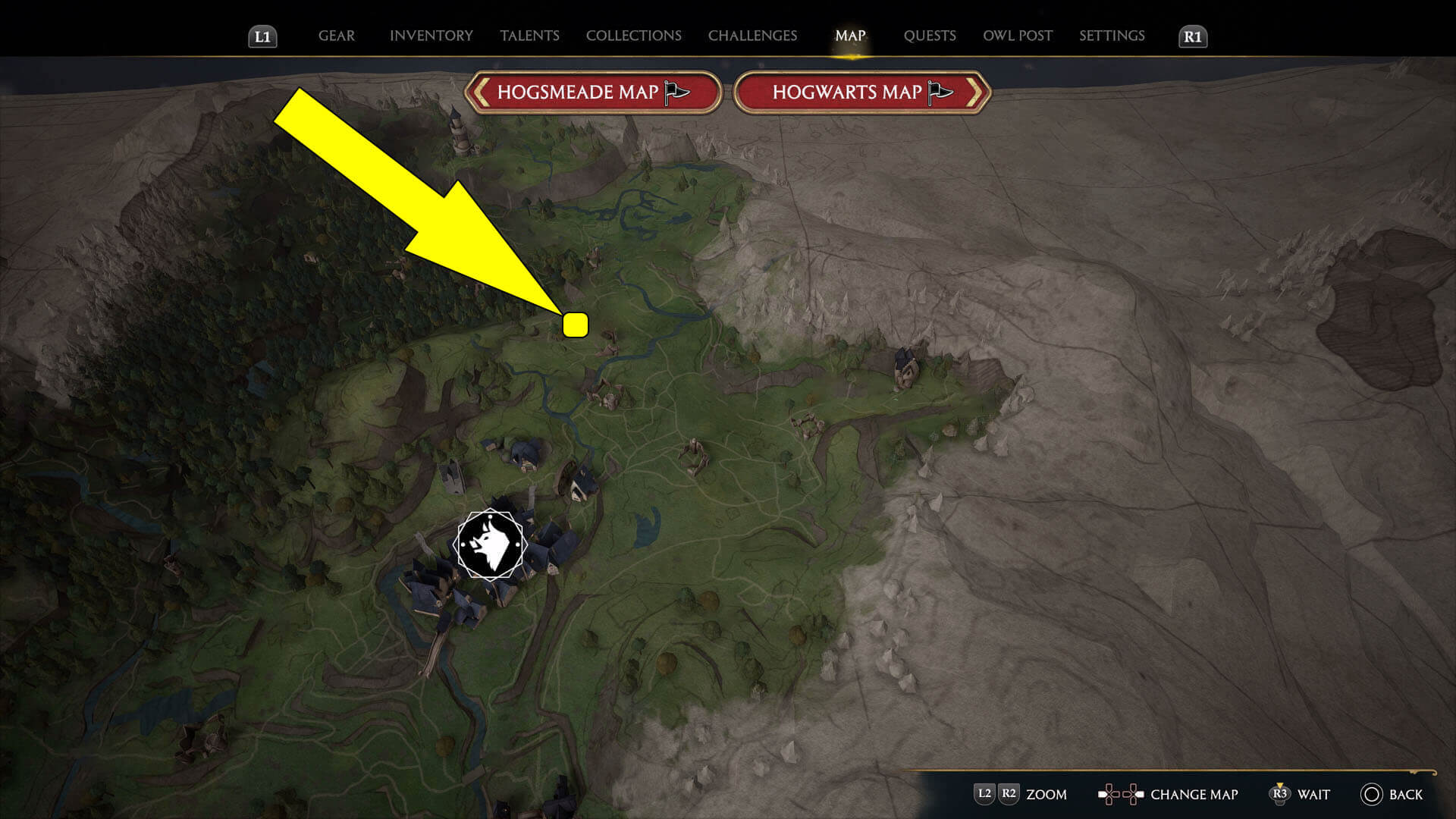 Look for the Table on the edge of a cliff in the abovementioned area.
How To Solve The Hogsmeade Valley Astronomy Table Puzzle
Now that you found the Hogwarts Legacy Hogsmeade Valley Astronomy Table, interact with it.
But if it's not already nighttime, first open your map and press R3/RS (PlayStation/Xbox), then X/A.
You got rid of the sun, so it's time to solve the puzzle.
Here are the controls for the telescope, which you'll need to align the tool with the constellation:
Left Stick to point the telescope in any direction
Right Stick to rotate the telescope
R2/RT to zoom in
L2/LT to zoom out
The fastest way to solve the puzzle is to rotate the telescope counterclockwise and then zoom in.
Once you perfectly align the telescope, you complete the Hogwarts Legacy Hogsmeade Valley Astronomy Table puzzle. Now you can do other activities, and if you are struggling, check our Wiki Hub here.