The North Hogwarts Region Landing Platforms in Hogwarts Legacy can be tricky to find because, unlike other collectibles, they don't appear on your map, even if you get close to them. The northern region features two of these Landing Platforms, and to get credit for them, all you have to do is land in the middle of each one.
As a reward, you can get up to 4 pieces of gear skins (Quidditch Captain set) if you complete the Challenges associated with the Landing Platforms. You can check your progress and claim the skins from the Exploration tab of the Challenges menu. It's worth mentioning that the Platforms are positioned in high places you can only reach with your flying Broom. As such, you must first complete the Flying Class main quest.
Where To Find the North Hogwarts Region Landing Platforms in Hogwarts Legacy
On the following North Hogwarts Region map, I have marked the locations of both Landing Platforms. One is on the eastern side, near the forest, while the other is on the western side.
Landing Platform #1: Near a Small Bandit Camp
The first North Hogwarts Landing Platform is found near a Small Bandit Camp on the north side of the region. Once you reach the first location marked on the map above, gain some altitude to spot the Platform on a cliff southwest of the Bandit Camp. Now land on the Platform and position yourself in the middle to get credit for it.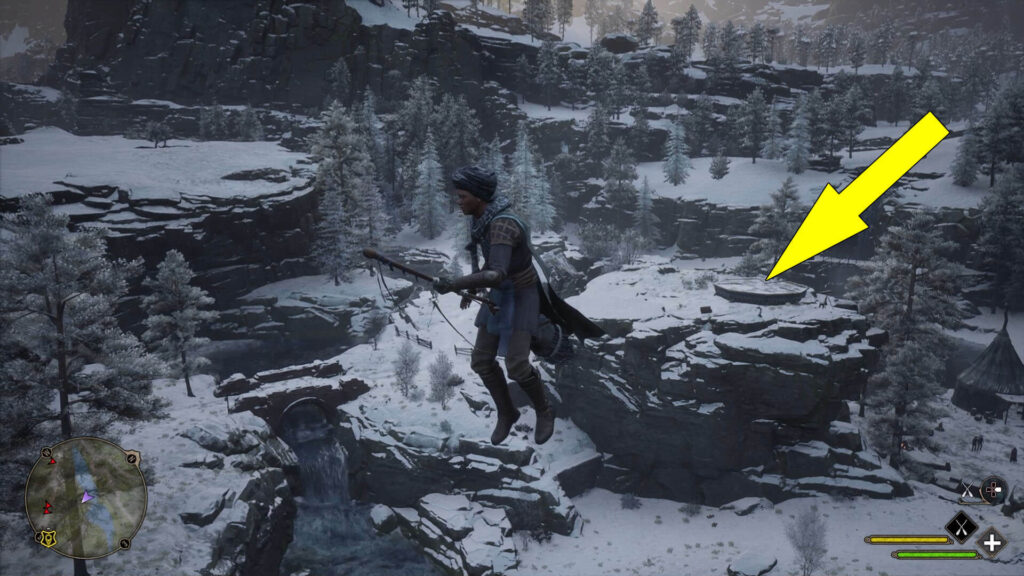 Landing Platform #2: On A Cliff
Upon landing on the previous platform, look for the stream to the west (very close). Then go upstream for about 340 meters, and you should see the second Platform on a cliff on the right side, not far from one of the North Hogwarts Region Merlin Trials. Make sure you fly really high to see the Platform.