Hogwarts Legacy Sweeping The Competition is a side quest you can complete in Hogsmeade village after you receive a letter by Owl Post from Albie Weeks about a broom upgrade. This side mission unlocks only after you finish Percival Rackham's Trial.
Be aware that to start Sweeping The Competition side quest, you must purchase at Spintwitches Sporting Needs shop in Hogsmeade a broom upgrade costing 1000 Galleons, so don't go there with empty pockets.
Where To Find Albie Weeks
After receiving Albie's letter, you must travel to his shop in the southeast of Hogsmeade village, as shown on the map below.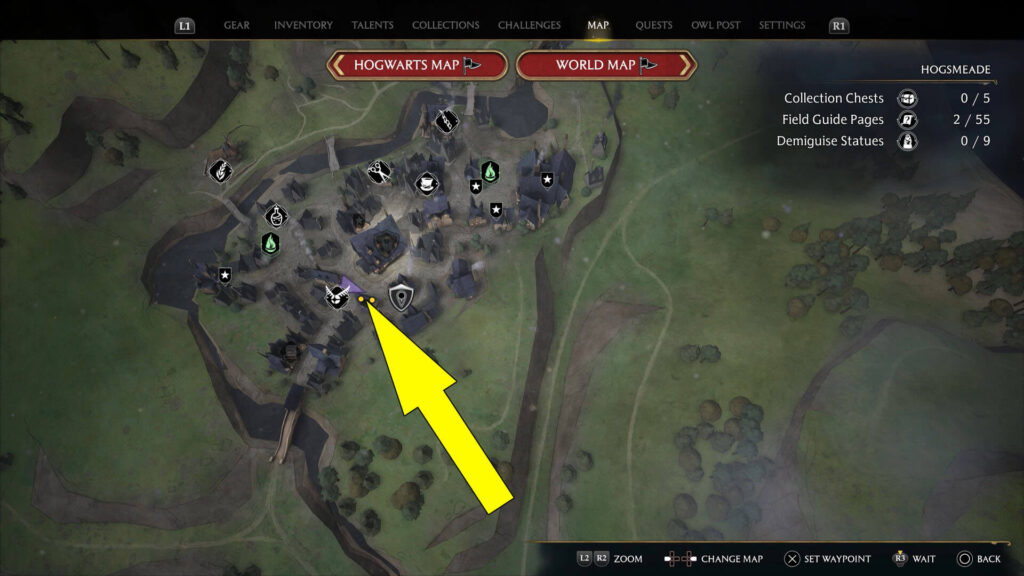 Now, you must enter the Spintwitches Sporting Needs shop and buy the broom upgrade from Albie Weeks. After you spend 1000 Galleons to purchase the upgrade, the quest giver asks you to test the improved groom in the Irondale course that Imelda Reyes mastered.
How To Beat Imelda Reyes's Record in the Hogwarts South Broom Trial
The next step after you talk with Albie Weeks in Hogsmeade is to find and speak with Imelda Reyes, located in the southwest part of the Hogwarts Valley region, as pointed out on the following map.
You have a big distance to cover from Hogsmeade to The Hogwarts South Broom Trial, so now is an excellent opportunity to test the flying skills you learned in the Hogwarts Legacy Flying Class. Imelda Reyes is waiting for you on a hill near a podium, as shown in the following picture.
After she brags about her flying skills, she challenges you to beat her Hogwarts South Broom Trial record. To complete the Sweeping The Competition side quest, you must beat Imelda's record of 2:26:22 ( 2 minutes and 26 seconds).
To have the best time trial, you have to fly on your upgraded broom through the big rings along the Irondale course. Each ring you miss will get you a small time penalty at the end. Also, pass through the yellow bubbles between the rings to get a speed boost, as shown in the picture below.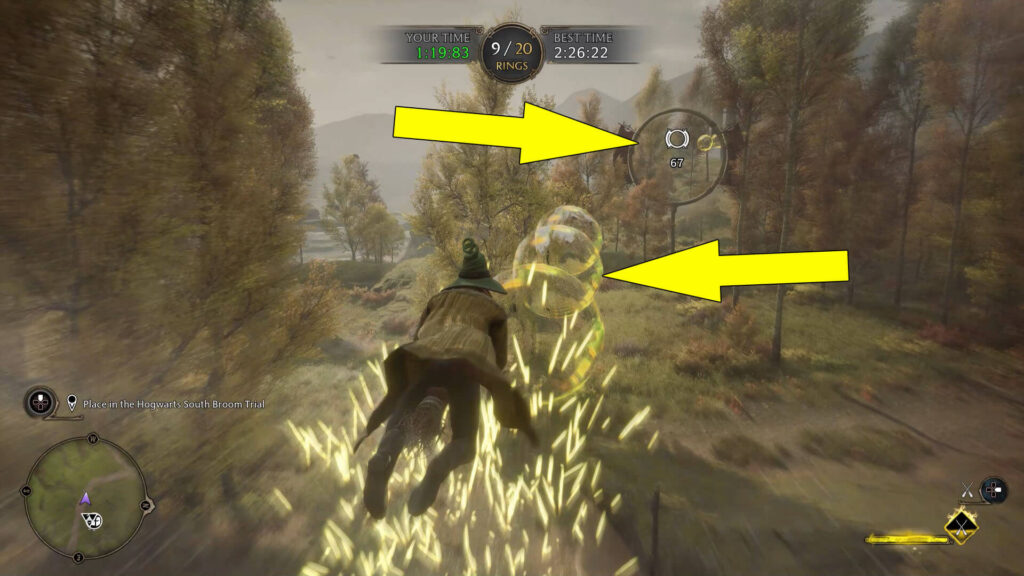 After you beat the time trial record, speak again with Imelda Reyes, who is impressed about how much you improved your flying techniques. Now, to finish the Hogwarts Legacy Sweeping The Competition side mission, return to Albie Weeks in Hogsmeade village and get your 180 XP reward.